REMINDER:
12 Year Old World Series
Watch Starting Saturday 7/21 Games Streaming live

Dizzy Dean National Live Stream
Dizzy Dean League of Champions Day!
Dizzy Dean League of Champions Day at SunTrust Park !
On Sunday, August 12th , Dizzy Dean parks will have its second event at SunTrust Park. Everyone in the Dizzy Dean community is invited to SunTrust Park for a little Braves baseball and camaraderie.
Tickets will be offered in the General Admission at $7. In addition, a portion of each ticket will benefit Dizzy Dean parks. All players and coaches of Dizzy Dean Parks will be allowed to parade the field beginning pregame. Please arrive at the 3rd Base Ramp no later than 12:15 pm to prior to the parade.
Lastly, do not forget to purchase your parking in advance at braves.com/parking.
For all questions and inquiries, please contact myself Chris Landry or our Atlanta Braves contact Gabrielle Gray at gabrielle.gray@braves.com.
We look forward to seeing you out at the ball park!
Go Dizzy Dean!
https://groupmatics.events/event/Dizzy
Cancellations due to weather will be posted on the
bracket. Revised brackets will be posted when made available.

Tournaments, brackets will be posted on this
website and updated beginning with State Tournaments.

The 2018
13-14-15-16-17-18 Year Old State Credential Meeting
will be on June 20th at 2109 Moncrief Rd.
Garendale, Al 35071
The 13-14 yr old will meet at 7pm
the 15-16-17-18 will meet at 7:45pm
Decertified Bats
Effective immediately, the bats depicted below have been decertified by USA Baseball and are no longer approved for play in leagues that have adopted the USABat Standard, including but not limited to the American Amateur Baseball Congress (AABC), Babe Ruth & Cal Ripken Baseball, Dixie Youth & Dixie Boys Baseball, Little League Baseball, NABF Baseball, and PONY Baseball.
On January 1, 2018, USA Baseball implemented the USABat Standard for non-wood youth baseball bats. Under USABat, approved bats that feature the USA Baseball mark are performance tested and required to perform at a wood-like standard. The bats listed below have been compliance tested and ruled non-compliant under the USABat Standard.
Team representatives are asked to check your team's bats and withhold these bats from play if your team is in possession of any. League administrators are asked to share this information with your umpires. If any of these bats are attempted to be used during competition, it should be considered an illegal bat and subject to league rules regarding the use of illegal or unapproved bats.
---
30-Inch Easton Ghost X (-10) 2 5/8" (YBB18GX10 & LL18GHX)

The Easton Ghost X 30/20 YBB18GX10 and LL18GHX 30/20 2 5/8" has been decertified by USA Baseball and is no longer an approved bat under the USABat Standard. This applies to the 30" (-10) length of the Ghost X YBB18GX10 and LL18GHX. All other certified lengths and drops of the Easton Ghost X USABat remain approved for play. A full list of approved bats can be found at https://USABat.com
Customer Information: Any questions regarding returns, refunds or warranty claims for the Easton Ghost X 30/20 should be directed to Easton via email at ghostreturn@easton.com or at 1-844-531-7079. Any questions regarding this decertification may be directed to USA Baseball at USABat@USABaseball.com.



Visit us here for World Series Baseball (Select July)
Visit us here for World Series Softball

ALL DIZZY DEAN TEAMS ARE ELIGIBLE TO PARTICIPATE
IN THE WORLD SERIES THIS YEAR.

THE FUTURE OF BATS
Changes in bat standards effective 2018
read more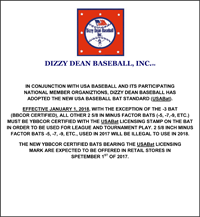 PROTESTS, PROTESTS, PROTESTS
In tournament play, ALL protests are to be resolved before the game continues.
There is no such thing as playing under protest in tournament play!