REMINDER:
ALABAMA STATE TOURNAMENTS
6u & 8u Credentials Meeting Curry Ballpark
Pavilion 6/14/23 @ 6:30pm
6u & 8u Curry 6/16/23
100 Don Lowry Dr. Jasper AL 35503
Contact Travis Mann
205-746-0152
10u & 12u Credentials Meeting 6:00pm
Double Springs Community Center 6/7/23
637 Blake Dr. Double Springs AL.

10u & 12u Double Springs 6/10/23
26789 Highway 195
Double Springs AL. 35553
Contact Travis Mann
205-746-0152
Minors go to Regulation Baseball

Bases will now be 65ft.
Leading off will now be allowed / stealing at any time
Dropped 3rd strike rule will be in effect
2023 World Dates have been set!
Start making your plans.
Baseball - ALL AGE GROUPS will check in on Monday June 26
and begin play on June 27.
Softball - ALL AGE GROUPS will check in on Thursday July 6
and begin play on July 7.
DIZZY DEAN BASEBALL/SOFTBALL PATCHES ARE ONLY REQUIRED FOR TOURNAMENT PLAY.
Attention park administrators and park board
members please read.
Snowden Grove and Greenbrook parks are now turf fields. Metal cleats will not be allowed, only molded cleats or turf shoes will be allowed in any age group.


New Pitch Count Rules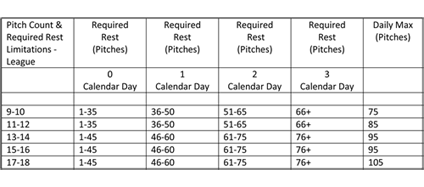 Decertified Bats
---
30-Inch Easton Ghost X (-10) 2 5/8" (YBB18GX10 & LL18GHX)

The Easton Ghost X 30/20 YBB18GX10 and LL18GHX 30/20 2 5/8" has been decertified by USA Baseball and is no longer an approved bat under the USABat Standard. This applies to the 30" (-10) length of the Ghost X YBB18GX10 and LL18GHX. All other certified lengths and drops of the Easton Ghost X USABat remain approved for play. A full list of approved bats can be found at https://USABat.com
Customer Information: Any questions regarding returns, refunds or warranty claims for the Easton Ghost X 30/20 should be directed to Easton via email at ghostreturn@easton.com or at 1-844-531-7079. Any questions regarding this decertification may be directed to USA Baseball at USABat@USABaseball.com.
THE FUTURE OF BATS
Changes in bat standards effective 2018
read more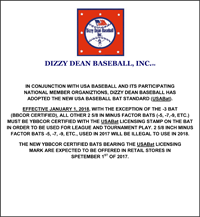 PROTESTS, PROTESTS, PROTESTS
In tournament play, ALL protests are to be resolved before the game continues.
There is no such thing as playing under protest in tournament play!